–
SELECTED DESCRIPTION OF PRACTICE
Graham Scott's relationship with Brady & Vinding began as opposing counsel in complex litigation involving nearly two dozen entities and persons.  Graham's tenacity and creative ways of litigating issues spurred Brady & Vinding to seek him out and hire him as an associate.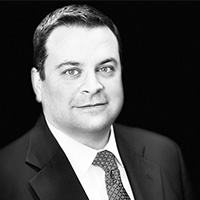 Graham Scott
BRADY & VINDING
455 Capitol Mall Suite 220
Sacramento, CA 95814
Office: (916) 446-3400
Direct: (916) 273-1736
Prior to working at Brady & Vinding, Graham worked at Arata, Swingle, Van Egmond & Heitlinger in Modesto, California where he was the senior commercial litigation associate involved with contracts, personal injury, employment law, and real estate litigation matters. Prior to that, Graham had his own successful law practice where he delivered personalized and cost-effective solutions in the field of civil litigation.  Before starting his own firm, Graham was a partner in a successful boutique litigation firm in Modesto where he was the principal manager of the firm's active caseload consisting of a variety of claims including complex civil litigation, wrongful death, premises liability, employment law retaliation, medical malpractice and breach of contract. Graham has obtained numerous settlements and verdicts into the millions of dollars. Graham also worked for years as a Deputy District Attorney at the Stanislaus County District Attorney's Office. 
Graham has several published cases to his name, including Conway v. County of Tuolumne (2014) 231 Cal.App.4th 1005 and May v. Nine Plus Properties, Inc. (2006) 143 Cal.App.4th 1538.  
Selected Bar Memberships/Organizations
Graham is admitted to Practice Before All California Courts and the Northern, Eastern, And Central United States District Courts and is a member of the Consumer Attorneys of California 2012 -2019, the Los Angeles County Bar Association 2010 – 2022 and the Stanislaus and Sacramento County Bar Associations.
Graham received his Juris Doctor degree from Laurence Drivon School of Law, Humphreys College, Stockton, California, Salutatorian with great distinction.
Graham received a Bachelor of Science degree in finance from DePaul University, Chicago, Illinois in 1996.